Despicable Me 3D Blu-ray & 2D Blu-ray released Jan 6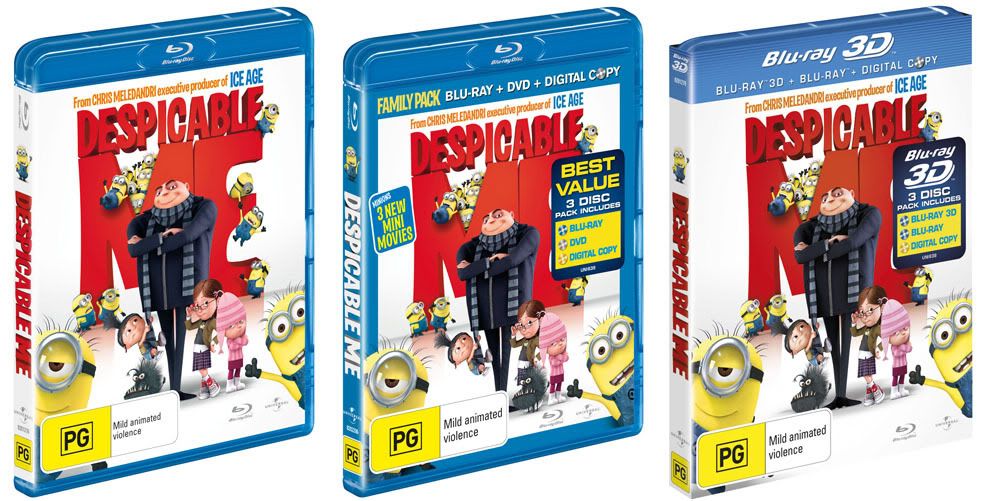 Despicable Me releases on Blu-ray in Australia on January 6th 2011 with 3 editions – The Standard 1 disc blu-ray edition, the Family Pack edition which contains the blu-ray, DVD and a digital copy and lastly the 3D Blu-ray Edition containing the 3D Blu-ray disc, 2D Blu-ray disc and digital copy.
Despicable Me takes place in a world where there is a worldwide society of supervillains that commit crime all over the world, interestingly with no superheroes to fight them. The story is of a supervillain named Gru who plans to use three orphan girls as pawns for a grand scheme, only to find that their innocent love is profoundly changing him. The film stars Steve Carell, Jason Segel, Russell Brand, Julie Andrews, Will Arnett, Kristen Wiig, and Miranda Cosgrove.
Special features on the blu-ray includes 3 all new Minion mini-movies, games, Recipes & More. You can watch a 3 min preview of the mini movie "Banana" here.
The various editions of the blu-ray can be purchased online at the retailers below:
Single Disc Blu-ray
Family Pack (Blu-ray/DVD/Digital Copy)
3D Blu-ray (3D Blu-ray/2D Blu-ray/Digital Copy)
Prices correct at time of writing.