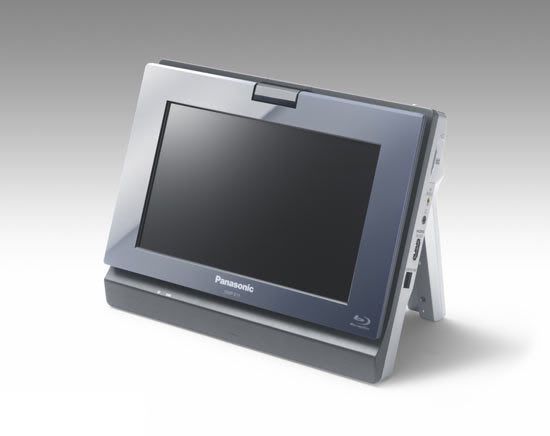 Innovative Player Features BD Live and VIERA CAST® Internet Accessibility
LAS VEGAS, Jan. 7 /PRNewswire-FirstCall/ — Panasonic, a major developer and contributor to the success of the Blu-ray format, introduced the world's first portable Blu-ray Disc player at the 2009 Consumer Electronics Show. The DMP-B15, designed to provide the ultimate high definition Blu-ray experience for those on the go, features a high quality 8.9-inch WSVGA LCD screen and includes the unique VIERA CAST® internet accessibility and BD Live functionality. The DMP-B15 will be available in May.
The DMP-B15 provides all the technology found in its stand alone brethren, the DMP-BD60, DMP-BD80 and the VHS-Blu-ray dual player DMP-BD70V. Image quality is of the highest level, thanks to PHL Reference Chroma Processor Plus technology developed in collaboration with Panasonic Hollywood Laboratory.
"As a pioneer in the development of DVD and Blu-ray expertise, Panasonic has always been in the forefront of cutting edge, consumer friendly technology. Panasonic was the first company to bring to market a portable DVD player and stand alone Blu-ray players to feature Bonus View and BD Live," said Richard Simone, Director, Entertainment Group, Panasonic Consumer Electronics Company. "Blu-ray technology came together with HDTVs to bring exciting High Definition viewing into the living room. With the introduction of this unique portable Blu-ray Disc player, the consumer can take this HD entertainment experience when they travel."
The PHL Reference Chroma Processor Plus is a high quality image-processing technology that precisely processes each pixel of the Blu-ray Disc(TM) video signal in the vertical direction. It reproduces color data with twice the accuracy of conventional systems, resulting in faithful and sharp colors.
Ease of use is an important element in Panasonic's products and the DMP-B15, with a three hour rechargeable battery, is designed with that in mind. In addition to its use as a portable player, the consumer can connect it to an HDTV via HDMI cable, and use it as a standalone Blu-ray Disc player. The player can also be connected to an HD-Audio compatible AV receiver with a home theater speaker system and enjoy movies with outstanding surround sound. To accommodate the traveler, the DMP-B15 offers an optional headrest mounting bracket for in-car use. Like all Panasonic Blu-ray players, the B15 features an SD Memory Card slot that allows the consumer to view and share digital photos, as well as HD video recorded on a SD card.
For 2009, Panasonic's entire line of Blu-ray players includes VIERA CAST functionality. This unique application gives the consumer access to select entertainment sites, including Amazon Video-on-Demand, a streaming video service that gives the consumer access to more than 40,000 titles; YouTube(TM); Google Picasa Web Album; Bloomberg and a weather channel.
Source: http://biz.yahoo.com/prnews/090107/ny56492.html?.v=1