Star Wars Blu-ray Complete Saga Announcement Expected at CES 2011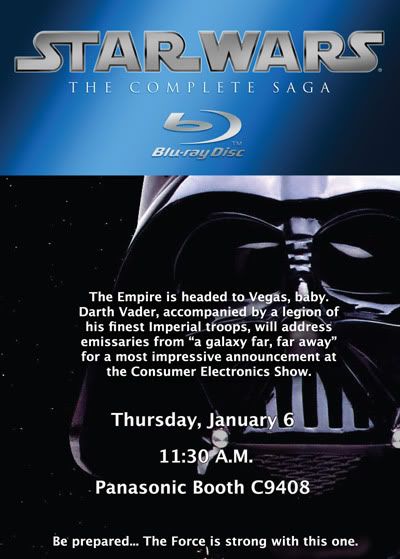 Thursday, January 6th at 11:30 AM PST (Friday, January 7th at 6:30am Sydney Time) , a "most impressive" announcement will be made regarding the Blu-ray release of Star Wars: The Complete Saga. The announcement will presumably include details about the release date, including special features contained on the blu-ray discs and as the event will be held at Panasonic's booth at the CES electronics fair in Las Vegas, their is the likelihood that a 3D conversion of the Star Wars will also be a part of the announcement.
Back in August 2010, George Lucus announced that the complete Star Wars Saga will be released in Q4 of 2011 with deleted scenes, documentary content and previously unseen footage.