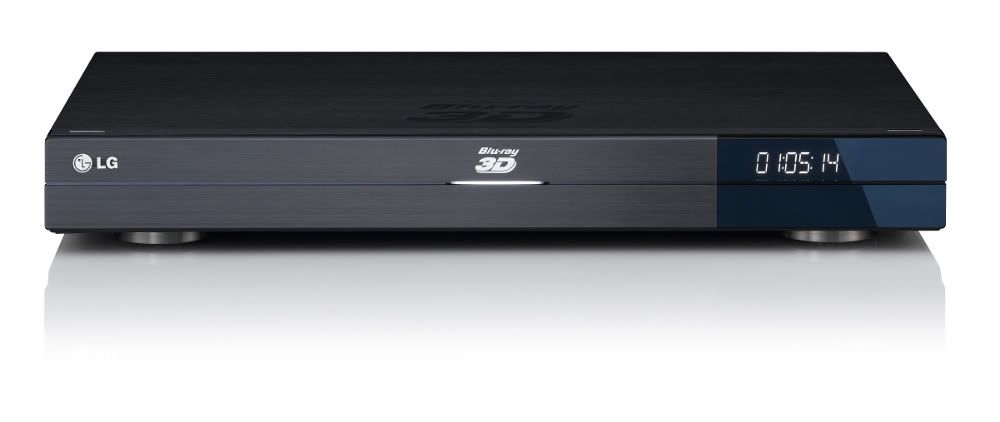 LG Electronics unveiled its 2011 Blu-ray line at the CES show in Las Vegas which included six new Network Blu-ray Players, featuring 3D capability, advanced content options, wireless technology and excellent picture quality. Also unveiled was its first-ever portable Blu-ray player (model BP650).
LG's flagship Blu-ray player for 2011, the BD690 (pictured above) combines the Blu-ray player with a 250gb hard drive, allowing for CD ripping and Blu-ray playback from a single box. There's built-in Wi-Fi, and it's DLNA-compliant so you can also stream music, photos and video from a connected PC.
The full features of the LG BD690 are below along with their other announced bluray players.
Blu-ray players
BD630
Full HD 1080p Network Blu-ray Player features
Connectivity to NetFlix, Vudu, CinemaNow and YouTube
BD640
Like the BD630, plus:
Wi-Fi capability (adaptor included)
BD650
3D-enabled
LG SmartTV
Wi-Fi ready (adaptor required, sold separately)
DLNA
BD670
Like the BD650, plus:
MusicID powered by Gracenote
built-in Wi-Fi capability
DLNA
BD690
Like the BD650, plus:
250GB hard drive
DLNA (server and client) functionality
Blu-ray home theater systems
LHB326
Full HD 1080p Network Blu-ray Home Theater System
Connectivity to NetFlix, Vudu, CinemaNow and YouTube
1100 watts of output power to 5.1 channels
Wi-Fi capability (adaptor included)
MusicID
LHB336
Like the LHB326, plus:
3D-enabled
LG SmartTV with Smart Phone App
Wi-Fi ready (adaptor required, sold separately)
iPod/iPhone cradle
DLNA
LHB536
Like the LHB336, plus:
LHB976
Like the LHB536, plus: