Tomorrow When the War Began Limited Academic Edition Blu-ray Details & Australian Release Date – Sequel announced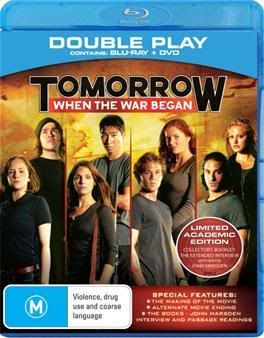 Tomorrow When the War Began is set for Australian release on blu-ray and DVD on December 30th 2010 (although some stores seem to be selling the title already).
Tomorrow, When the War Began is a 2010 Australian action drama film written and directed by Stuart Beattie and based on the novel of the same name by John Marsden. The story follows Ellie Linton, one of eight teenagers waging a guerrilla war against an invading foreign power in their fictional hometown of Wirrawee. The film stars Caitlin Stasey as Ellie Linton, with Rachel Hurd-Wood, Lincoln Lewis, Deniz Akdeniz, Phoebe Tonkin, Chris Pang, Ashleigh Cummings and Andy Ryan.
The Limited Edition Academic Edition blu-ray features double play packaging containing both the blu-ray and DVD and includes the following special features:
Collector's Booklet
The Extended Interview with Writer John Marsden
The Making of the Movie
Alternate Movie Ending
The Books – John Marsden Interview and Passage Readings
The sequel to Tomorrow When the War Began and second film in the series, The Dead of the Night had been greenlit for production and is scheduled to be released in 2012.
The Blu-ray can be purchased online from the following retailers: