The Expendables Blu-ray & Special Limited edition Packaging Blu-Ray + Digital Copy released in Australia Dec 16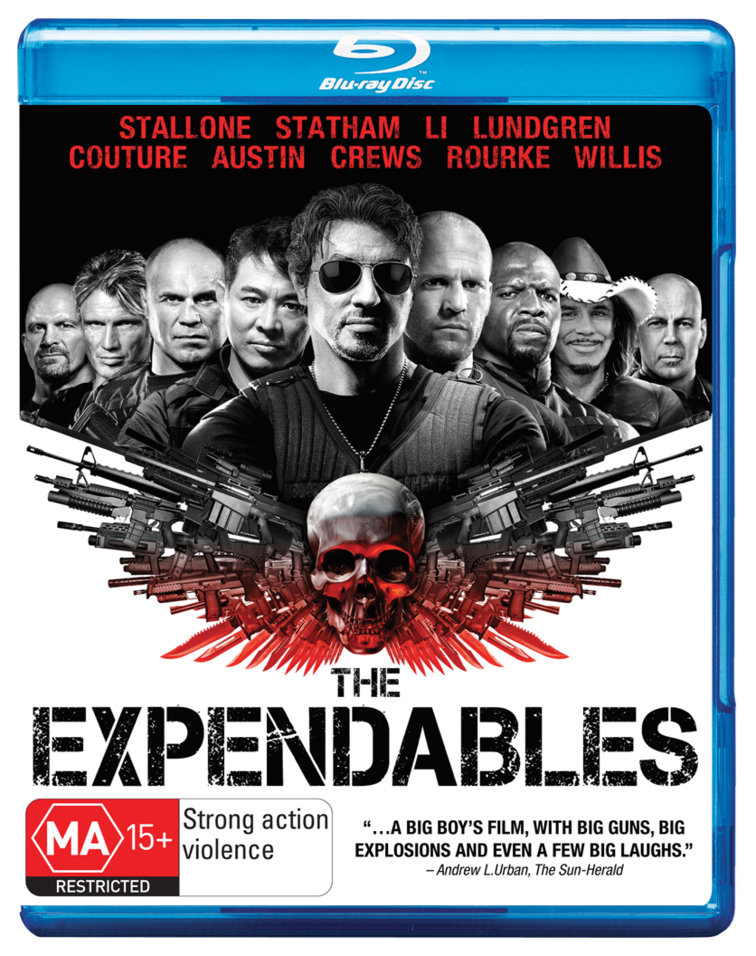 The Expendables is available to rent and buy on Blu-ray and DVD from December 16th 2010.
The Expendables is a hard-hitting action/thriller about a group of mercenaries hired to infiltrate a South American country and overthrow its ruthless dictator. Features a phenomenal all-star line up of Hollywood heavyweights and action kings including Sylvester Stallone, Dolph Lundgren, Mickey Rourke, Jet Li, Gary Daniels, Jason Statham, Terry Crews, Steve Austin and even has cameo appearances from Bruce Willis and Arnold Schwarzenegger.
Available in both a single disc blu-ray edition and a blu-ray + Digital Copy Skull Edition, the Expendables contains the following special features:
Audio Commentary with Sylvester Stallone
The Expendables: Ultimate Recon Mode (Blu-ray exclusive expanded BonusView commentary)
From the Ashes: Post Production and Release (additional making-of covering the post production and premiere of the film – 20 mins)
Gag Reel
Deleted Scenes
Marketing Archive (includes poster art, TV Spots, Trailers)
Enhanced for D-Box Motion Control Systems
Exclusive interviews with the cast at 2010 Comic Con
The Skull Edition contains all the special features included in the standard release plus includes a digital copy of the film and special skull packaging (pictured below). The Blu-Ray disc is inside the skull edition packaging and doesn't come in a standard Blu-Ray case.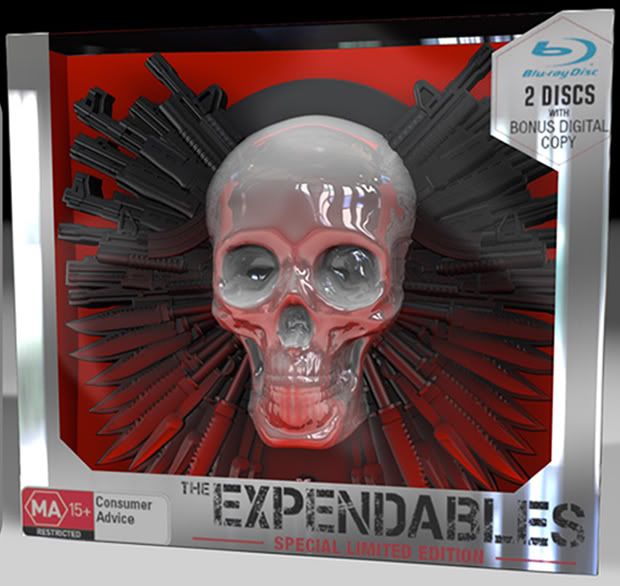 The Expendables standard blu-ray edition will be available to purchase from all blu-ray retailers from December 16th. The Skull Edition will only be available for purchase from JB HiFi, Sanity and select specialty DVD retailers. It can also be purchased online from the links below.
Standard Blu-ray
Skull Edition Blu-ray + Digital Copy
Blu-ray + Digital Copy
Imported Blu-ray Editions