Toy Story 3 Australian Blu-ray release this Wednesday + US Blu-ray confirmed region free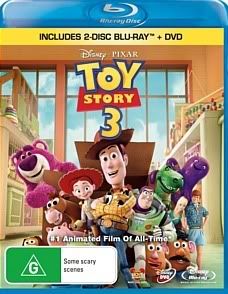 Toy Story 3 is released on blu-ray and DVD this Wednesday, November 17th 2010 here in Australia in a 2 Disc Blu-ray + DVD Pack.
In Toy Story 3, Woody (voiced by Tom Hanks), Buzz Lightyear (voiced by Tim Allen) and the rest of the Toy Story gang return for an all-new adventure, along with a few new faces – some plastic, some plush – including Barbie's counterpart Ken (voiced by Michael Keaton), a thespian hedgehog named Mr. Pricklepants (voiced by Timothy Dalton) and a strawberry-scented bear named Lots-o'-Huggin' Bear (voiced by Ned Beatty). It's "the biggest, best, most exciting Toy Story of them all," raves Access Hollywood's Scott Mantz.
As Andy prepares to depart for college, Woody, Buzz, Jessie and the rest of Andy's faithful toys wonder what will become of them. But, when a mix-up lands them at Sunnyside Daycare, they meet a host of new toys and soon discover a wild new adventure is just beginning.
The Toy Story 3 blu-ray is packed full of special features including the Day and Night Pixar short and a ton of special features exclusive to the blu-ray release including Toy Story Trivia Dash, a cool game that challenges you to sprint to the finish with Woody, Buzz, Jessie and Rex as you quickly answer questions about all three Toy Story movies; the Making of Day & Night and a ton more exclusive blu-ray features.
BONUS FEATURES:
Day & Night: The innovative and entertaining short from the imagination of Pixar artist and director Teddy Newton.
Making of Day & Night: The story behind the unique 2D/3D blended short (BD-exclusive)
Cine-Explore: commentary by director Lee Unkrich and producer Darla K. Anderson (BD-exclusive)
Beyond the Toybox: an alternative commentary track featuring leads from story, tech, art and animation – commentary by story supervisor Jason Katz, supervising technical director Guido Quaroni, production designer Bob Pauley and supervising animators Bobby Podesta and Michael Venturini (BD-exclusive)
Beginnings: Setting a Story in Motion – Screenwriter Michael Arndt analyzes successful opening scenes from Toy Story, Finding Nemo and The Incredibles (BD-exclusive)
Bonnie's Playtime: A Story Roundtable: A roundtable discussion with Director Lee Unkrich and the story artists who brought the "Bonnie's Playtime" scene to life (BD-exclusive)
Roundin' Up a Western Opening: The development of the movie's exciting opening scene (BD-exclusive)
Life of a Shot: Toy Story 3 artists and technicians describe their contributions to a few of the shots in the film's "Western Opening." (BD-exclusive)
Goodbye Andy: an exploration of character design, acting and animation in the scene "Andy's Goodbye." (BD-exclusive)
Accidental Toymakers: by creating the Toy Story characters, the Pixar filmmakers found themselves in the unlikely role of toy designers. Meet the toy company that took a chance on manufacturing the now iconic toys and learn of their incredible success that began with a modest number of Woody and Buzz Lightyear toys 15 years ago. (BD-exclusive)
Toys!: A closer look at all of Toy Story 3's beloved toys from updating the classic characters to the creation of the Sunnyside Daycare and Bonnie's Room toys.
Buzz Lightyear Mission Logs – The Science of Adventure: Produced in conjunction with NASA, this hybrid animation documentary of Buzz's visit to the International Space Station focuses on research in zero gravity and Buzz's triumphant return to Earth.
Paths to Pixar – Editorial: Pixar editors, past and future share anecdotes about their careers.
The Gang's All Here: A touching look at the returning voice talent for Toy Story 3 and an introduction to the voices of the new characters.
A Toy's Eye View – Creating a Whole New Land: A sneak peek at the new Toy Story-themed playland at Hong Kong Disneyland.
Studio Stories – A series of amusing animated anecdotes about life at Pixar.
"Where's Gordon?" – An animator finds a hidden room at Pixar.
"Cereal Bar" – The majestic and expansive Pixar cereal bar is explored.
"Clean Start" – The Toy Story 3 animators shave their heads to mark the start of the film.
Toy Story Trivia Dash – This game challenges you to sprint to the finish with Woody, Buzz, Jessie and Rex as you quickly answer questions about all three Toy Story movies (BD-exclusive)
SUBTITLES:
* English
* English Captions for the Deaf and Hearing Impaired
Toy Story 3 Blu-ray can be purchased below from the following retailers:
Prices correct at time of writing. Please check merchant websites for the latest price.
* DVD Copy may not be region free