The Twilight Saga: Eclipse Australian Blu-ray Release Date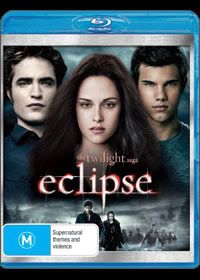 The Twilight Saga: Eclipse is set to be released in Australia on December 1st, 2010.
In The Twilight Saga: Eclipse Bella once again finds herself surrounded by danger as Seattle is ravaged by a string of mysterious killings and a malicious vampire continues her quest for revenge. In the midst of it all, she is forced to choose between her love for Edward and her friendship with Jacob knowing that her decision has the potential to ignite the ageless struggle between vampire and werewolf. With her graduation quickly approaching, Bella is confronted with the most important decision of her life.
The Twilight Saga: Eclipse is the third film in the Twilight Saga based on Stephenie Meyer's bestselling book series. Reprising their roles are Kristen Stewart (Bella), Robert Pattinson (Edward), Taylor Lautner (Jacob), Ashley Greene (Alice), Kellan Lutz (Emmett), Nikki Reed (Rosalie), starring alongside Bryce Dallas Howard (Victoria) and newcomer Xavier Samuel (Riley).
The Twilight Saga: Eclipse is directed by British filmmaker David Slade (30 Days of Night, Hard Candy) from a screenplay by Melissa Rosenberg.
While no region specific information has been released regarding special features, you could expect that we will get the same Special features as the US release (US Release date December 4) which is as follows:
Picture-in-picture commentary (Blu-ray exclusive)
Audio commentaries:

Rob Pattinson and Kristen Stewart
Stephenie Meyer

Deleted and extended scenes
Photo gallery
Six-part making of documentary
Jump to… Your favorite scenes
Music Videos
The Blu-ray is available to pre-order from the following online retailers: